Overview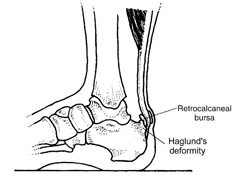 Achilles tendonitis (tendinitis), is a painful and often debilitating inflammation of the Achilles tendon than can progress into degeneration which we call Achilles Tendinosis. The Achilles tendon is the largest and strongest tendon in the body. It is located in the back of the lower leg, attaches to the heel bone (calcaneus), and connects the calf muscles to the heel bone. In most cases, Achilles tendonopathy's are overuse injuries are more common among athletes and people who train heavily, however it can also occur in people who are less active. Achilles Tendonitis can vary in severity from a mild pain in the tendon during a particular activity to more severe cases when any form of activity that puts strain on this ligament, even standing or walking, can cause pain.
Causes
There are two large muscles in the calf. These muscles are important for walking. They create the power needed to push off with the foot or go up on the toes. The large Achilles tendon connects these muscles to the heel. Heel pain is most often due to overuse of the foot. Rarely it is caused by an injury. Tendinitis due to overuse is most common in younger people. It can occur in walkers, runners, or other athletes. Achilles tendinitis may be more likely to occur if you Suddenly increase the amount or intensity of an activity. Your calf muscles are very tight (not stretched out). You run on hard surfaces such as concrete. You run too often, you jump a lot (such as when playing basketball), you do not have shoes with proper support, your foot suddenly turns in or out. Tendinitis from arthritis is more common in middle-aged and elderly people. A bone spur or growth may form in the back of the heel bone. This may irritate the Achilles tendon and cause pain and swelling.
Symptoms
Symptoms can vary from an achy pain and stiffness to the insertion of the Achilles tendon to the heel bone (calcaneus), to a burning that surrounds the whole joint around the inflamed thick tendon. With this condition, the pain is usually worse during and after activity, and the tendon and joint area can become stiffer the following day. This is especially true if your sheets are pushing down on your toes and thereby driving your foot into what is termed plantar flexion (downward flexed foot), as this will shorten the tendon all night.
Diagnosis
A doctor examines the patient, checking for pain and swelling along the posterior of the leg. The doctor interviews the patient regarding the onset, history, and description of pain and weakness. The muscles, tissues, bones, and blood vessels may be evaluated with imaging studies, such as X-ray, ultrasound, or MRI.
Nonsurgical Treatment
There is insufficient evidence from randomised controlled trials to determine which method of treatment is the most appropriate for the treatment of acute or chronic Achilles tendonitis. The patient should abstain from aggravating activities, but with a minimum of rest in order to preserve overall fitness. Possible treatments are non-steroidal anti-inflammatory drugs (NSAIDs), ice, rest, increased warm-up/stretching exercises, physiotherapy and heel lifts (orthotic devices - used on both sides to prevent a gait imbalance). Other treatments evaluated in a Cochrane review were heparin, steroid injections, glycosaminoglycan sulfate, Actovegin?, and topical laser treatment. There was no clear evidence of benefit from these. Casting is an option for resistant Achilles tendonitis. Drugs - analgesics and NSAIDs. Surgery is sometimes used for resistant Achilles tendonitis, but usually as a last resort. Other recently reported treatments include continuing sporting activity in conjunction with rehabilitation, low-energy shock wave therapy[4] and topical glyceryl trinitrate .
Surgical Treatment
Treating this surgically, there are numerous methods to repair the tendon. Most commonly, Achilles tendon is exposed through an incision at the back of the ankle. After identifying both ends of ruptured tendon, the edges got trimmed and then both ends were sutured together with optimal tension. To get a better outcome with fixation, an anchor may have to be in place in calcaneus, provided the rupture is very low. Care must be taken to avoid injuries to the nerves located adjacent to the tendon.
Prevention
Stay in good shape year-round and try to keep your muscles as strong as they can be. Strong, flexible muscles work more efficiently and put less stress on your tendon. Increase the intensity and length of your exercise sessions gradually. This is especially important if you've been inactive for a while or you're new to a sport. Always warm up before you go for a run or play a sport. If your muscles are tight, your Achilles tendons have to work harder to compensate. Stretch it out. Stretch your legs, especially your calves, hamstrings, quadriceps, and thigh muscles - these muscles help stabilize your knee while running. Get shoes that fit properly and are designed for your sport. If you're a jogger, go to a running specialty store and have a trained professional help you select shoes that match your foot type and offer plenty of support. Replace your shoes before they become worn out. Try to run on softer surfaces like grass, dirt trails, or synthetic tracks. Hard surfaces like concrete or asphalt can put extra pressure on the joints. Also avoid running up or down hills as much as possible. Vary your exercise routine. Work different muscle groups to keep yourself in good overall shape and keep individual muscles from getting overused. If you notice any symptoms of Achilles tendonitis, stop running or doing activities that put stress on your feet. Wait until all the pain is gone or you have been cleared to start participating again by a doctor.