Overview
Achilles tendonitis is inflammation and tendonosis is degeneration and irregular healing of the achilles tendon. The achilles tendon is the large tendon located in the back of the leg that inserts into the heel. The pain caused by achilles tendonitis/osis can develop gradually without a history of trauma. The pain can be a shooting pain, burning pain, or even an extremely piercing pain. Achilles tendonitis/osis should not be left untreated due to the danger that the tendon can become weak and rupture requiring surgery.
Causes
Achilles tendonitis occurs in sports such as running, jumping, dancing and tennis. Other risk factors include participation in a new sporting activity or increasing the intensity of participation. Poor running technique, excessive pronation of the foot and poorly fitting footwear may contribute. In cyclists, the problem may be a low saddle, which causes extra dorsiflexion of the ankle when pedalling. Quinolone antibiotics (eg, ciprofloxacin, ofloxacin) can cause inflammation of tendons and predispose them to rupture.
Symptoms
Patients with this condition typically experience pain in the region of the heel and back of the ankle. In less severe cases, patients may only experience an ache or stiffness in the Achilles region that increases with rest (typically at night or first thing in the morning) following activities which place stress on the Achilles tendon. These activities typically include walking or running excessively (especially uphill or on uneven surfaces), jumping, hopping, performing heel raises or performing calf stretches. The pain associated with this condition may also warm up with activity in the initial stages of injury. As the condition progresses, patients may experience symptoms that increase during sport or activity, affecting performance. Pain may also increase when performing a calf stretch or heel raise (i.e. rising up onto tip toes). In severe cases, patients may walk with a limp or be unable to weight bear on the affected leg. Patients with Achilles tendonitis may also experience swelling, tenderness on firmly touching the Achilles tendon, weakness and sometimes palpable thickening of the affected Achilles tendon when compared with the unaffected side.
Diagnosis
Your physiotherapist or sports doctor can usually confirm the diagnosis of Achilles tendonitis in the clinic. They will base their diagnosis on your history, symptom behaviour and clinical tests. Achilles tendons will often have a painful and prominent lump within the tendon. Further investigations include US scan or MRI. X-rays are of little use in the diagnosis.
Nonsurgical Treatment
See your doctor or sports physiotherapist for further advice. You may be prescribed anti-inflammatory medicine and a rehabilitation programme. Sometimes, the ankle may be put into a walking boot or cast to immobilise the ankle in the short term. Gentle calf stretching is the first stage of rehabilitation. Don?t stretch to the point of pain. Strengthening the Achilles tendon is the second stage. Your doctor or sports physiotherapist will be able to advise you on exercises for this. Special exercises called eccentric calf raises, that contract the calf muscle as it is lengthening (during the lowering part of the movement), are the standard exercise used in the rehabilitation of Achilles tendon injuries. Sometimes a heel raise or orthotics may be useful. As symptoms resolve, resume normal weight-bearing activities gradually. Avoid running until all tenderness has gone. Swimming or cycling in low gear are good replacement activities.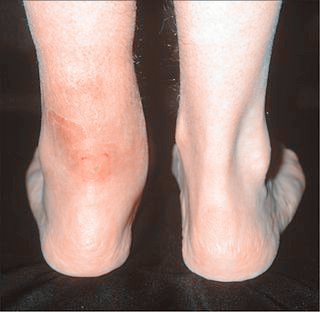 Surgical Treatment
Surgical treatment for tendons that fail to respond to conservative treatment can involve several procedures, all of which are designed to irritate the tendon and initiate a chemically mediated healing response. These procedures range from more simple procedures such as percutaneous tenotomy61 to open procedures and removal of tendon pathology. Percutaneous tenotomy resulted in 75% of patients reporting good or excellent results after 18 months. Open surgery for Achilles tendinopathy has shown that the outcomes are better for those tendons without a focal lesion compared with those with a focal area of tendinopathy.62 At 7 months after surgery, 67% had returned to physical activity, 88% from the no-lesion group and 50% from the group with a focal lesion.
Prevention
Wear shoes that fit correctly and support your feet: Replace your running or exercise shoes before the padding or shock absorption wears out. Shock absorption greatly decreases as the treads on the bottoms or sides of your shoes begin to wear down. You may need running shoes that give your foot more heel or arch support. You may need shoe inserts to keep your foot from rolling inward. Stretch before you exercise: Always warm up your muscles and stretch gently before you exercise. Do cool down exercises when you are finished. This will loosen your muscles and decrease stress on your Achilles tendon. Exercise the right way: If your tendinitis is caused by the way that you exercise, ask a trainer, coach, or your caregiver for help. They can teach you ways to train or exercise to help prevent Achilles tendinitis. Do not run or exercise on uneven or hard surfaces. Instead, run on softer surfaces such as treadmills, rubber tracks, grass, or evenly packed dirt tracks.